Tarzan Flies High and Teaches the Power of Family
Catch him while you can!
Last show is Sunday January 15.
Moonlight Broadway has given area families a late holiday treat…  a fun, exciting trip to the jungle to start the new year.  The show is more fun than you can imagine and the best way to spend time with the family while the weather outside is dreary.  Nothing even remotely dreary about this show thanks to the talented cast and crew.
When you arrive, you'll notice the stage curtain is transparent.  It adds to the sense that you're a part of the action, trying to see through a dense jungle.  The orchestra is also behind the curtain, which is unique and makes for more intense sound compared to shows where the orchestra is in the pit in front of the stage.  Musical kids will enjoy seeing the musicians! 


The show is action-packed with movement and climbing and swinging from ropes and wire ladders that look like ferns allowing characters to hop from platform to platform.  The physicality and prowess of the characters, especially the apes and Tarzan, is mesmerizing for the kids and looked at with envy by the parents… yes, the new year is time to hit the gym, inspired by the show!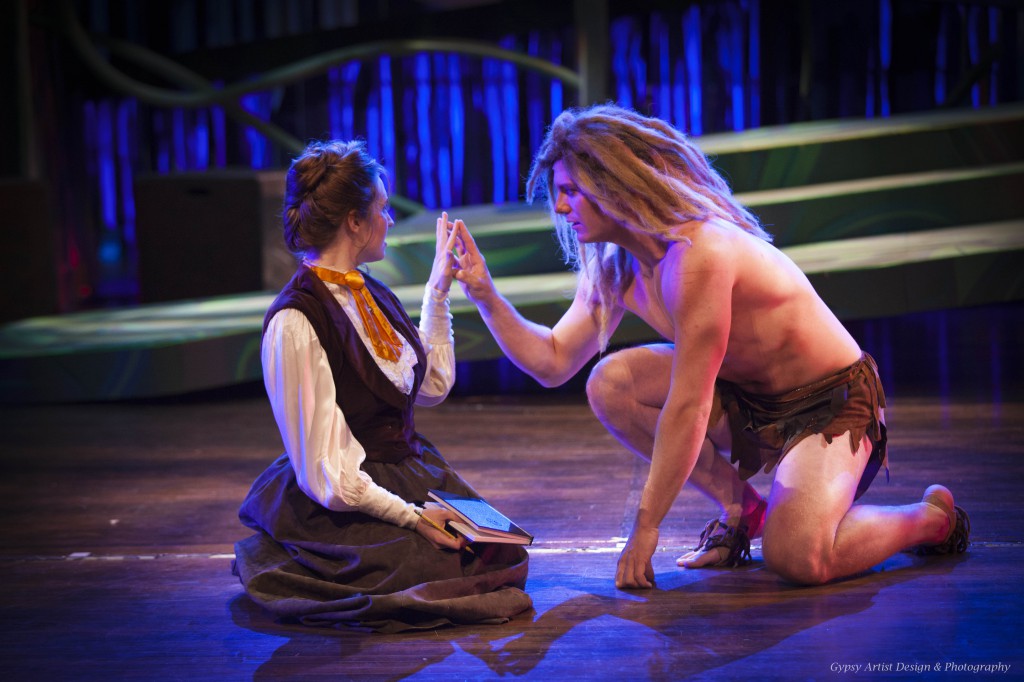 The music is enjoyable for everyone and quite moving at times.  Jane, played by Rachel Way, is stunning and her voice is perfect for the part – strong, and vibrant, and playful – and blends beautifully with Tarzan's, played by Thomas Griffin Williams.  Tarzan is played so well with the perfect combination of strength, innocence, physicality, wisdom, and approachability.  Children and adults can relate to him!  And the booming, baritone voice of Kerchak, played by Ezekiel Andrew, is stirring and tender at times while definitely establishing himself as the leader of the tribe.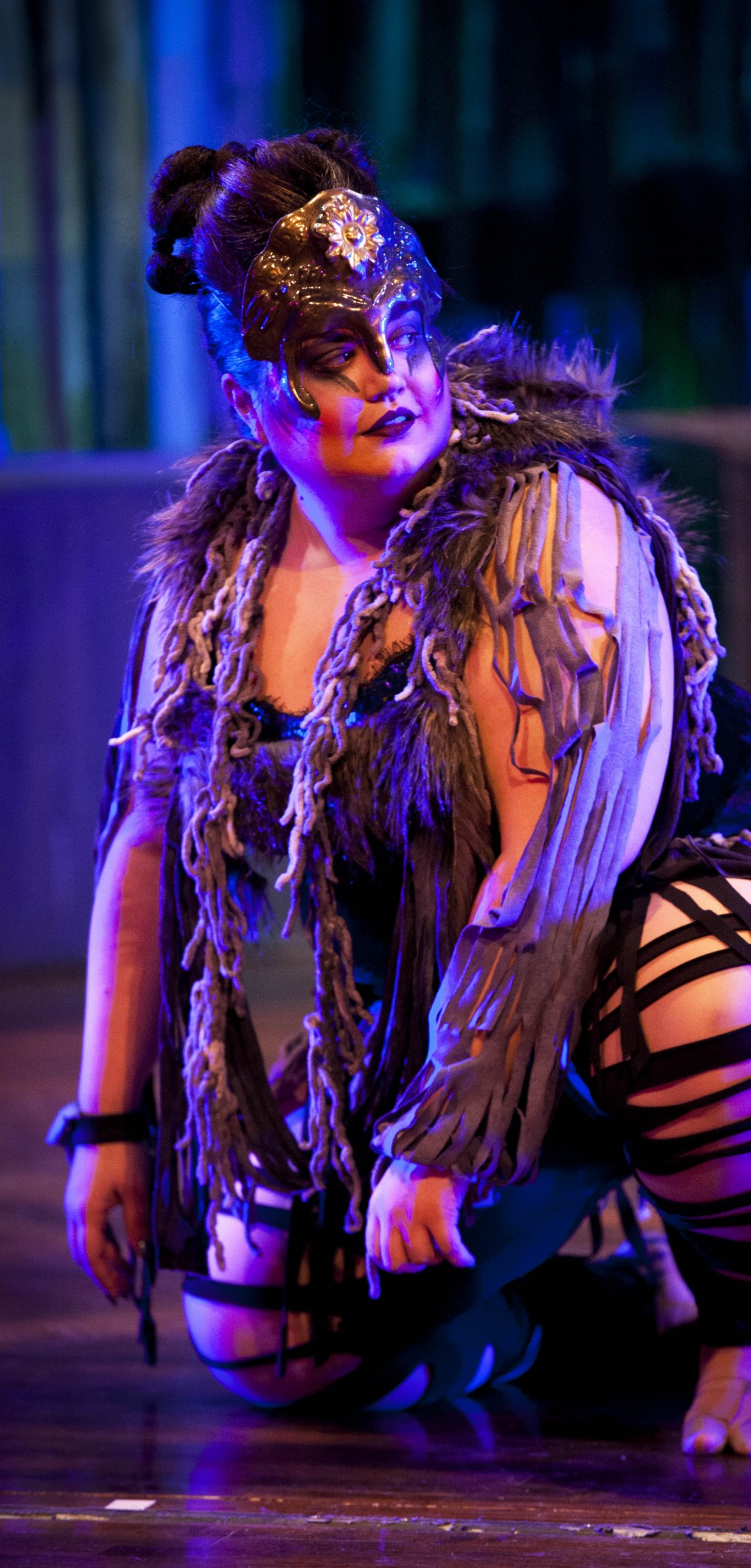 But from the point of view as a parent, the portrayal of Kala, from Ann Marie Nichols, is incredibly moving and emotional.  The amount of joy, sadness, heartbreak and shear emotion she is able to express through song and voice (while jumping from platform to platform!) is inspiring and impressive.  She sings from the heart of every parent beautifully. 

Another treat especially for kids, is being able to see Tarzan as a boy, enthusiastically played by Elijah van Gilder.  There is a special effect (that we still can't figure out!), where Kala is cradling the infant Tarzan while sleeping and he magically turns into Tarzan as a youth.  Yes, that is exactly how all parents feel… in the blink of an eye our children go from infants to swinging from vines!
However, the real treasure in this production, was a surprise.  Although most people in the audience are familiar with the story of Tarzan from Johnny Weissmuller to Disney, this performance truly strikes a chord in demonstrating the power and importance of all families, regardless of their appearance.  The message for children who may be a part of a blended, foster or adoptive family is heartwarming and strong.  Even Jane's father Professor Porter, played by Travis Burge, reminds Jane of the importance, value, and depth of Tarzan's adoptive family, and shows great respect when meeting Tarzan's mother and friends.  Another teachable moment from the theatre!
Parent Pointers:
Parents need to be aware that the show does start by showing how Tarzan came to be in the jungle alone… he was with his parents during a shipwreck.  And his parents die.  However the continuing theme of the power of love and family quickly swoops up baby Tarzan and the audience as his adopted mother Kala braves beasts and even her own tribe to become his mother.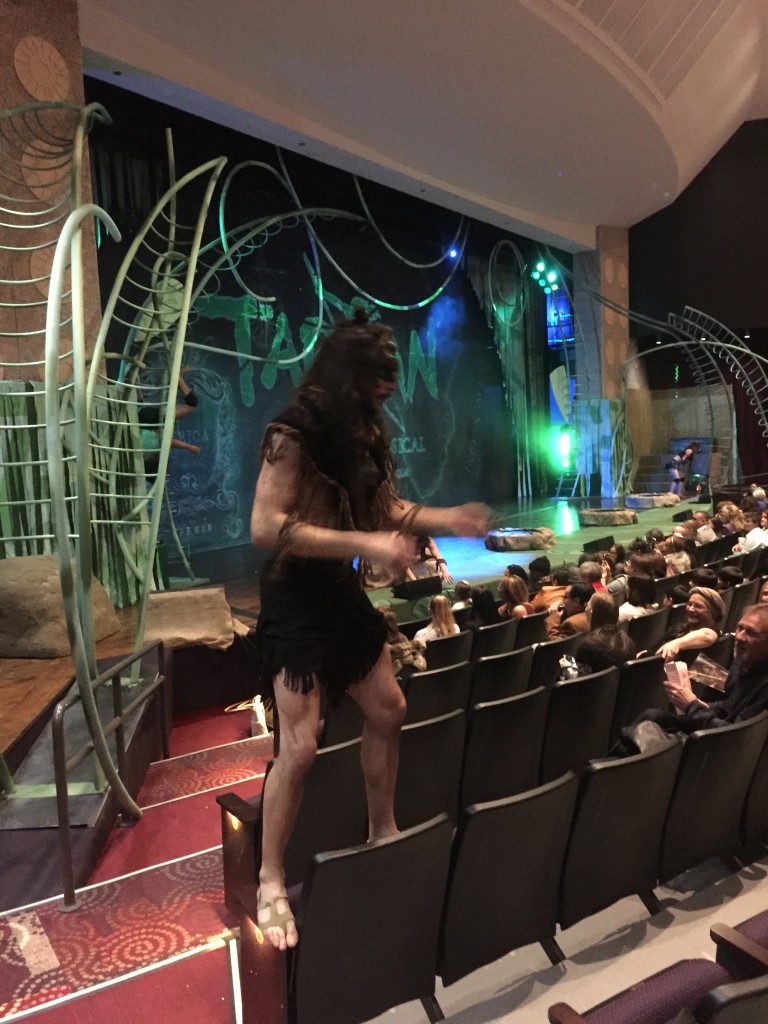 And one of our favorite parts of the production features apes… lots and lots of apes!  During the intermission, several of the apes wander around the theatre and audience, interacting with guests, climbing on the seats (as most apes would do!), taking photos and ape-ing around.  Their costumes are masks and some head dressing – extremely creative but could be frightening for some children if they are approached quickly by one of these friendly apes.  Simply prepare them by mentioning that they may be able to meet some of these talented actors up close, or if you child is sensitive to interaction, taking a break during intermission in the lobby may be wise.
Preparing for the show:
Children may think they know Tarzan, but, although it is based on the Disney film, there are no cartoonish characters or costumes.  Tantor the Elephant is not in the show and Tarzan's friend Terk is male.  For older kids, encourage them to take a look at the original novel and then tell the family their thoughts on the differences between the show and the novel.
Just the Facts!
When: Friday, January 6, 2017 7:30 PM.
Saturday, January 7, 2017 7:30 PM.
Sunday, January 8, 2017 2:00 PM.
Friday, January 13, 2017 7:30 PM.
Saturday, January 14, 2017 2:00 PM.
Saturday, January 14, 2017 7:30 PM.
Sunday, January 15, 2017 2:00 PM.
Where: Lubbock Memorial Civic Center Theatre. 1501 Mac Davis Lane, Lubbock, TX 79401.
How: Tickets are available at Select-a-Seat, online, or by calling 806-770-2000. Prices Range from Prices range from $25-$71.
Length: Lasts approximately 2 hours with a 20 minute intermission included.
Age: Recommended for all ages but ideal for 4+.  Younger kids may get antsy at times, but the music and theatrics will keep them engaged.
Going to the show?  Let us know!  Write your reviews below.
Credits:  Based on the Disney Film.
Music and Lyrics by Phil Collins.
Book by David Henry Hwang.
Adapted from the story "Tarzan of the Apes" by Edgar Rice Burroughs.
Originally Produced on Broadway by Disney Theatrical Productions.
TARZAN© owned by Edgar Rice Burroughs, Inc.
Images from Lubbock Moonlight Broadway 2017 production of Tarzan (R) The Stage Musical and Elizabeth Logan.