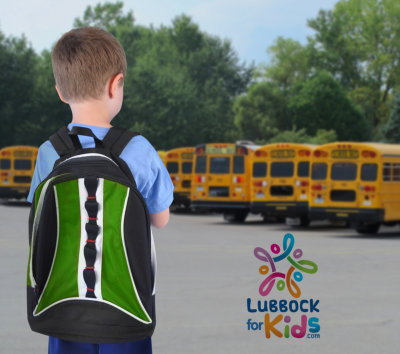 We just spotted the first flock of geese arriving in the Hub City area… must be official: summertime is winding down.  It's that time of year.  We panic because we haven't quite finished that summer bucket list with our kids and we need to think about preparing for the bus back to school…..now!
To help you enjoy every inch of summer (and there's lots more to enjoy!) and at the same time jump-start school prep, we've gathered all the great Back-to-School deals, dates and events in one convenient spot on LubbockForKids.com.  You can now find all the summertime fun to round out that bucket list & also plug into all the B2S excitement… there's plenty of time!  And for up-to-the-minute events, check our Back to School section and jam-packed calendar!
A time to shop!
A time for medical appointments!
There are several events where kids can receive their immunizations, physicals, dental and more.  Reminder:  Children must have their shot records and be accompanied by a parent or legal guardian in order to receive immunizations at most events.
A time to give!
West Texans are wonderful, giving, and compassionate… there are several school supply and backpack drives to help strapped parents prepare for the upcoming school year.  These events also give our kids a chance to help by gathering and donating supplies too.
Lots of places are having End of Summer Blasts to help wrap up Summer 2016 with a bang!  Some of our favorites include:
A time to learn!
First Days of School include (check each district's website link for orientation and open house dates):
College and Career Night @ the United Supermarkets Arena:
Mon. 10/24 from 5:30-7:30pm.  Hosted by Lubbock ISD.  This is a great, not-to-miss event for parents and kids in Lubbock and surrounding areas who are in 6th grade and above … especially high schoolers!
Tutoring Resources:
Now is also a great time to check into any additional learning services that can take your child to the next level or help kick start the new year.  See our Tutoring Section for a full list of local sources including:  The Institute for Creative Learning, Mathnasium, Literacy Lubbock, and CLC College Prep Services.
Checkout our calendar often for up-to-the-minute dates and events.
Roll-on Lubbock parents!
Do you know of a cool B2S event, activity or resource?  Share it with us here or add it to our calendar!
Updated 8/5/2016