Carousel offers touching,
teachable moments for parents.
Catch Friday & Saturday performances through August 20th.
The final summer production from Moonlight Musicals is one of our personal all-time favorite shows: Carousel, the musical by Rodgers & Hammerstein.  The fact that it's being performed during the most beautiful time of the year in Lubbock, Texas for enjoying evenings outside is like the stars aligning!  The night we attended was absolutely perfect:  The view of the water at Mackenzie Park peeking around from behind the stage was so tranquil and the glorious West Texas sunset to the left of the stage was right on cue!  The very light breeze was refreshing and had a hint of rain, but the storms on the horizon never threatened the show.  Perfect!
Many parents and grandparents may recall the musical (debuted in 1945) or the film version featuring Shirley Jones and Gordon MacRae (1956).  The great melodies are still there including "June is Bustin' Out All Over," "The Carousel Waltz" (you'll recognize it!) and of course "You'll Never Walk Alone."
The beginning scene (our family favorite!) takes place at the carnival and is full of colors, characters, magicians, and the star of the show… the Carousel!  The beautiful set draws you into the story from the first beat.
In case you haven't seen the film, Carousel takes place in a small fishing village on the coast of Maine in the early 1900′s.  It's the story of young Billy, a handsome, rough-around-the-edges carnival worker ("barker") and Julie, an innocent local girl, who fall in love and marry.  They quickly face hardships that result in a tragic loss, but Billy receives one last chance from heaven.  The power of love is the continuing theme.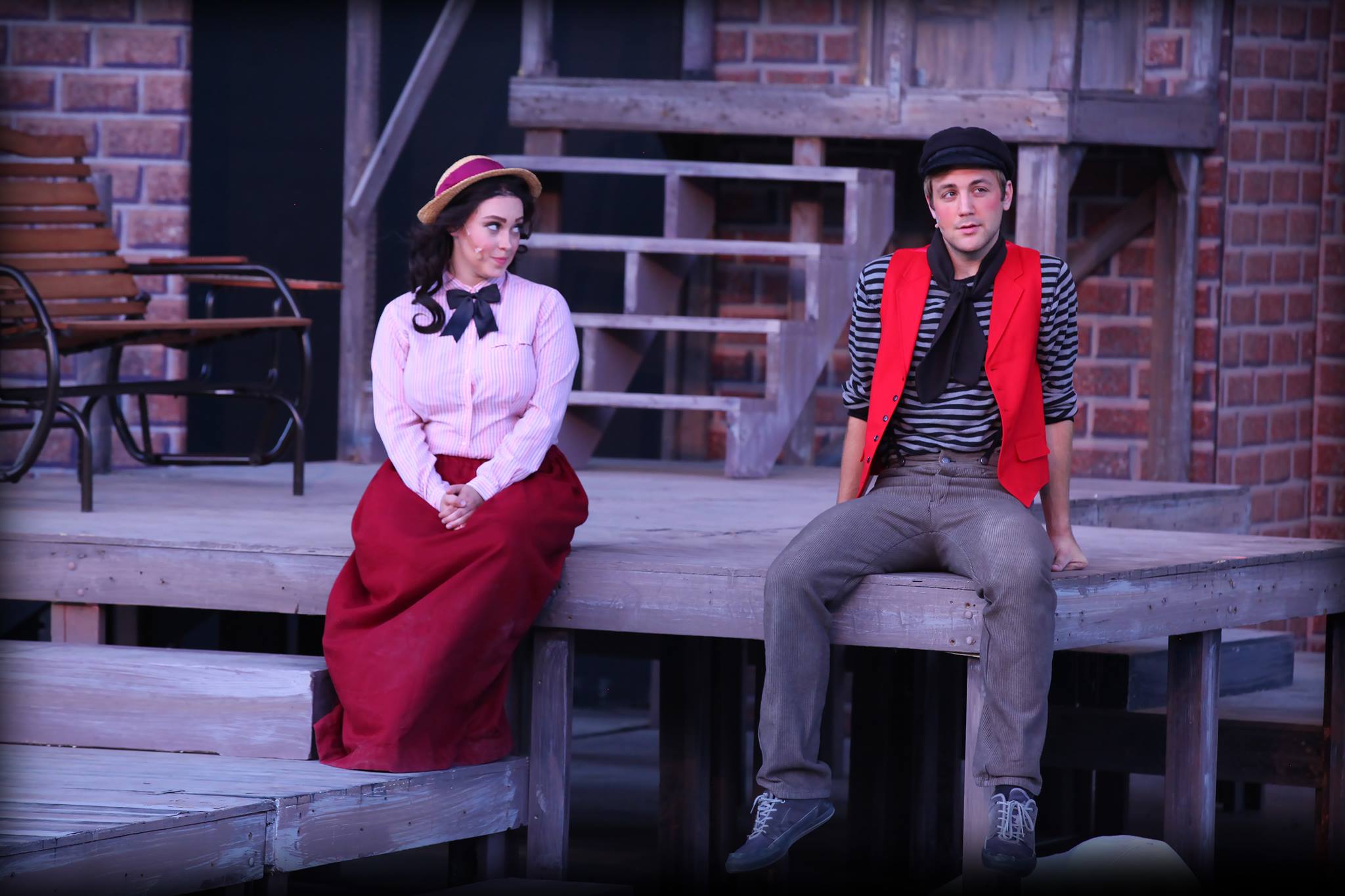 This is a great show if you have a teenager, especially a son, who has balked at attending performing arts… it's an outdoor, casual environment and there are many scenes with lots of male characters who wrote the book on swagger.  But more importantly, it also offers a good opportunity to get your teen's take on the importance of choosing friends wisely, making good decisions, and especially the messages of hope, redemption, and forgiveness… regardless of the mistakes made.
One of our favorite quotes comes at the very end of the show at the graduation ceremony.  The speaker, who appears to also be Billy's heavenly helper, offers to the graduates:  "I can't tell you any sure way to happiness. I only know that you've gotta go out and find it for yourselves. You can't lean on the success of your parents. That's their success.  And don't be held back by their failures… Makes no difference what they did or didn't do. You just stand on your own two feet." Very timely message to any of our kids preparing for high school or college.
This treat from Moonlight Musicals offers us not only the opportunity to experience a beautiful evening with our families, but also a chance to share this classic with our kids.  It's top-level entertainment (the rendition of "You'll Never Walk Alone" by Candice Aipperspach as Cousin Nettie is stunning!) and packed with teachable moments addressing similar issues that young people have faced throughout time.
Parent Pointers:
Parents need to be aware that the show does cover a variety of grown-up content.  In literary terms it's a tragedy.  A main character dies.  Younger children may be frustrated that Billy has to go back to heaven rather than stay on earth… looking for the type of happy ending that they are accustomed to receiving in many films they see.  But it is a wonderful chance to show children that happy endings come in many forms.  Billy is able to redeem himself and also help those he loves on earth… so it is a happy ending after all.  Although based in a setting of over 100 years ago, it offers timeless lessons that convert to current-world issues.
And bad boy Jigger Craigin does have some great one-liners ("My mother had a baby once… just once.") but he also provides some spicy language and name calling that proves to the audience that he is definitely unsuitable company.
Preparing for the show:
There are many topics in the show that our kids might find foreign.   For example:  What exactly is a "Clam Bake?"  Many West Texas kids may not really understand that it's a festival, rather than a dish!  One way to get into the spirit is to plan your own picnic or "Clam Bake" – before or after (or even during!) the show.  They also may need an explanation of what a "Carnival Barker" actually does.  Be prepared for other questions regarding the themes of after-life, bullying, and even domestic violence.
Just the Facts!
When: Friday and Saturday August 5 & 6, 12 & 13, 19 & 20.  Gates open at 7pm and performance starts at 8pm.
Where: Moonlight Musicals Amphitheatre at 413 East Broadway Lubbock, TX 79403.
How: Tickets are available at Select-a-Seat, online, or by calling 806-770-2000. Prices Range from $20-$28 for adults and $7-$15 for children.  Students for $12. *For General admission child age is 5-9 years and Premium admission child age is 0-9 years.
Length: Lasts approximately 2 hours and 30 minutes with a 20 minute intermission included.
Age: Recommended for ages 10 and up.  Younger kids will still enjoy the open venue and the dancing and singing.
Planning to go?  Let us know how you like the show!  Write your reviews below.
Credits:  Music by Richard Rodgers. Book by Oscar Hammerstein II.  Lyrics by Oscar Hammerstein II.  Based on the Play LILIOM by Ferenc Molnar.  As adapted by Benjamin F. Glazer.
Images from Lubbock Moonlight Musicals 2016 production of Carousel.