Gobble Up
Some Family Memories this Thanksgiving!

Kris Kringle is Alive and Well and in The Hub City…
Catch him while you can!

Special holiday week shows through Sunday November 26th.
Moonlight Broadway has given area families another holiday treat… a chance to bridge generations with its latest production of Meredith Willson's Miracle on 34th Street – The Musical.  It's the perfect outing for the entire family during the Thanksgiving holiday week, whether they are coming from out of town or across the street, are young or old.  And this production is particularly charming because, in true Moonlight Musicals fashion, they have included many children into the cast.
In fact, the story line revolves around a child: Susan Walker (enthusiastically played by Abi Mills).  Susan is a little girl who was never allowed to believe in Santa or other things that are not tangible.  It was a well-intentioned strategy by her mother, Doris, to protect Susan from being hurt or disappointed from dreams that may not come true.  Susan's quest to discover if her friend Kris Kringle really is who he says he is, strikes a chord with the kids in the audience, establishing Susan as a hero: she is the little girl who finds her Santa and whose faith helps inspire all the adults around her to believe in and follow their own dreams.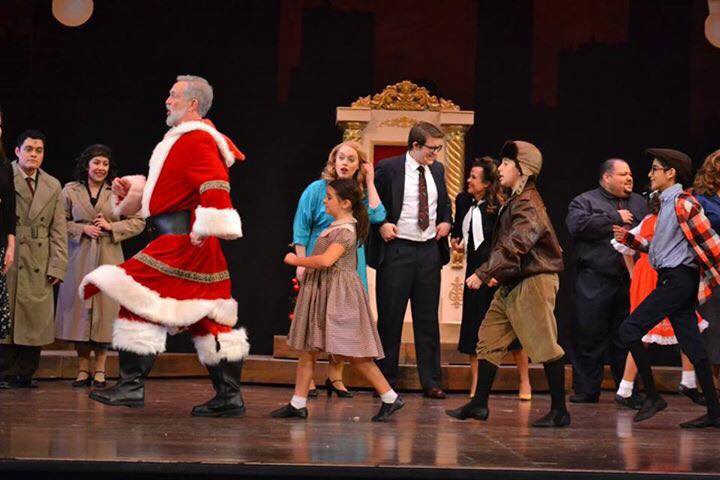 The Thanksgiving Day Parade scene at the first of the show, with the kids and floats is fun, and includes a spirited march as the children at the parade fall in behind Santa, forming a line and marching to, of all things, a Christmas carol!
The music is festive and enjoyable and helps make the musical version more lighthearted than the screenplay versions.  One that everyone in the audience will recognize is a family fave:  "It's Beginning to Look a Lot Like Christmas"… who knew that one of our favorite carols was born on the stage!
We loved the gentle, kind, yet commanding presence of Kris Kringle, played wonderfully by Mike Morgan.  His warm and playful manner was fun to watch as he interacted with the children on stage, from leading the kids on a holiday march, to answering their questions and requests with compassion and sage advice.  And what our kids enjoyed as well, was seeing how Kris was able to to help the grown-ups believe once again in miracles and in the goodness of people.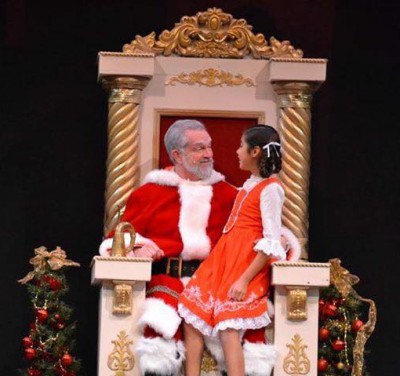 A real treasure in this production, was a song performed by Santa and a little Dutch girl, Hendrika (played by Aubrey Giselle).  Santa is approached by the girl's guardian, who tells Santa that the little girl speaks no English yet, only Dutch, whereby Santa begins a conversation in her language and they sing the little girl's favorite Christmas carol together, "Bugles."  It was an enchanting moment for the audience and the pivotal moment when Susan started to believe that the gentleman known as Kris Kringle, could in fact be Santa Claus.
Parent Pointers:
Parents need to be aware that the show does start by showing a tipsy Santa, who was to be in the parade, which gave the real Kris Kringle the chance to take over as Santa in the parade.  And the entire basis of the show centers around the disbelief in Santa Claus:  Susan was never allowed to believe in Santa or other things that are not tangible.  So parents may want to be prepared to answer some similar questions.  However, as the story progresses, Susan was shown that "Faith is believing in something that common sense tells you otherwise" – another teachable moment with out kids.
Preparing for the show:
Miracle on 34th Street has several different productions available on film or video, which would be fun to watch together either before or after seeing the play.  Most of the movies are not the musicals, so especially with older kids, it would be interesting for them to see the difference in a musical format compared to a story or screenplay format and for them to share which they prefer.  In addition to having a Christmas theme with Santa and some recognizable music, the show also features rich dialogue that is a great chance for older kids to follow the story, but that might lose the interest for the littlest audience members at times.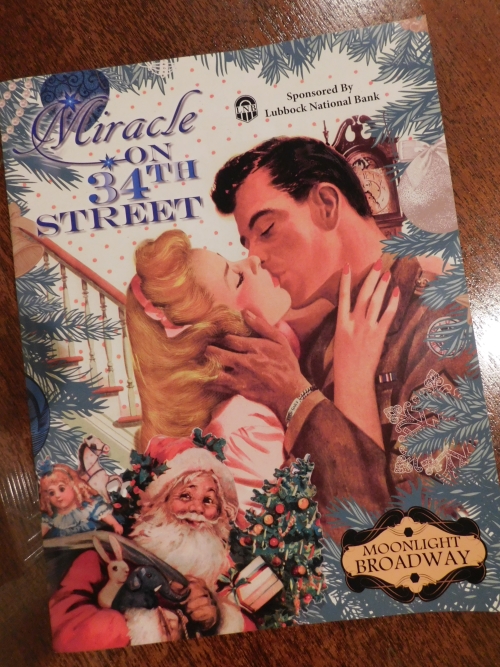 Miracle on 34th Street is set in the post WWII era, which gives us the opportunity to share with our kids how things were different.  One of the main characters was in the Marines, and uses words like "dames" in reference to some ladies and "the head" when talking about the restroom, which can be explained in today's context.  And an explanation or Google search for "Gimble's" and "Macy's" before the show could help them understand that during that time period Gimble's and Macy's were real stores and heated competitors, not just the men who were in the show.
How families benefit:
Thanks to Moonlight Musicals, we've had the chance to enrich our children with the inspirational, magical, and yes miraculous, world of performing arts.  And what some may not realize, or forget at times, is that Moonlight Musicals is a 501(c)3 nonprofit.  As parents, we can feel that purchasing a ticket to their performances is a win/win: our kids are exposed to high-quality theatre giving us precious time together and conversations about topics that are brought to light, plus we are supporting a local nonprofit.  The seeds planted by Moonlight Musicals throughout the community have been exciting to see take root and grow.  Every theatre department and group in the area has either been formed as an off-shoot or has greatly benefited from the multiple opportunities for children (and adults) to hone their on-stage experiences.  The vibrant Lubbock theatre community gives thankful parents many outlets for our kids to be able to tap into their inner star (and for some theatre parents it's a God-send, giving our spirited kiddos the outlet they need!).
Just the Facts!
When: Thursday, November 16, 2017 7:30 PM.
Friday, November 17, 2017 7:30 PM.
Sunday, November 19, 2017 2:00 PM.
Monday, November 20, 2017 7:30 PM.
Friday, November 13, 2017 7:30 PM.
Saturday, November 14, 2017 2:00 PM.
Saturday, November 14, 2017 7:30 PM.
Sunday, November 15, 2017 2:00 PM.
Where: Lubbock Memorial Civic Center Theatre. 1501 Mac Davis Lane, Lubbock, TX 79401.
How: Tickets are available at Select-a-Seat, online, or by calling 806-770-2000. Prices Range from Prices range from $prices range from $15 – $35 for children and from $25 – $65 for adults.
Length: Lasts approximately 2 hours with a 20 minute intermission included.
Age: Recommended for ages 4+ but best for 6+ .  Younger kids may get antsy at times.
Going to the show?  Let us know!  Write your reviews below.
Credits:  Book, Music & Lyrics by Meredith Willson.  Based on the 29th Centrury Fox Pictures.  Story by Valentine Davies.  Screen Play by George Seaton.
All rights to Willson's song catalog owned by Sir Paul McCartney.
Images from Lubbock Moonlight Broadway 2017 production of Miracle on 34th Street – the Musical, LubbockForKids.com, and Kim Phillips.