The Adventures of Tom Sawyer is a toe-tappin' summer escape for families + a special treat for Dad.
Catch Friday & Saturday performances through July 1st.
The first summer production from Moonlight Musicals is a welcomed escape for families as we transition from the frantic end of school-time, into summer-time - the hazy, lazy days of summer that Tom Sawyer and his buddy Huck Finn have come to symbolize.  And we couldn't help but think that a trip back in time with Tom and Becky and Huck is just about the best Fathers Day gift. Ever! The production is Dad-friendly (lots of male characters) with a bluegrass band rather than a full orchestra.  It's even teen-approved.  Win/Win!  The night we attended was absolutely perfect: The view of the water at Mackenzie Park behind the stage was mesmerizing and the light breeze refreshing.  The full Strawberry Moon was the icing on the cake.  Perfect!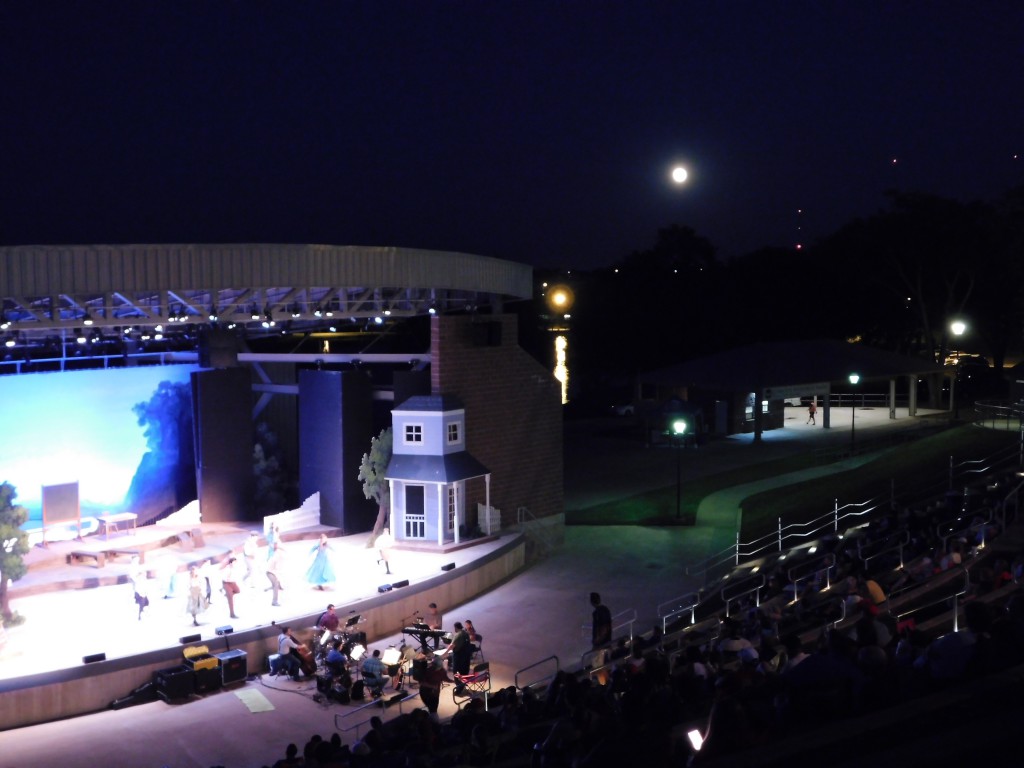 The beginning scene starts with Tom Sawyer taking the stage… fishin' of course! to a wonderful musical medley performed by an extremely talented 6-member orchestra that includes not only a violin, but a slap bass, banjo, guitar, mandolin, piano, and drums.  It really sets the mood for the show, and transforms the audience into a softer, slower time.
This production is especially enjoyable for kids because it includes so many children in the cast… and they look like they are having the best summer ever!  The toe-tapping music is not overdone but adds to the story in exactly the right spots… our toes were tapping and hands clapping throughout.  And several groups of kids in the audience could be seen busting out a few dance moves when the spirit moved them as well.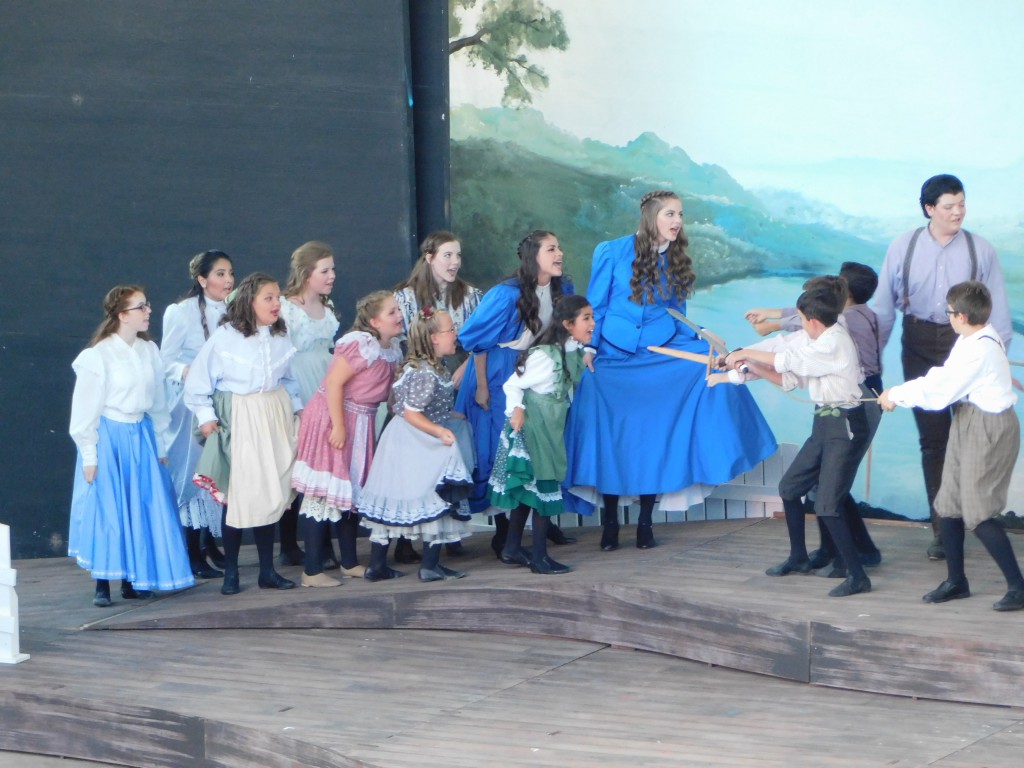 The story is truly timeless and one that all kids, and parents can relate to.  Tom (played by Coby Rogers) is charming and endearing, and Becky Thatcher (played by Anna Holmes) is spunky and sweet.  They are perfectly cast and with the addition of Tre Babineaux as Huck Finn, the adventures begin and friendships are made.  The cast is driven by so many talented actors in their teens that it's a great opportunity to ignite a spark for the arts for children in the audience.  The exposure to performances such as Tom Sawyer is not only a way to share these special, fleeting summer days with our children, but an opportunity to instill a lifelong appreciation for the arts, perhaps even create a budding performer!
Although the kids take center stage in Tom Sawyer, the adults help anchor the show and give the characters the love and support needed.  The performance by Mariann Davidson as Aunt Polly, Tom's aunt who is raising him, especially tugs on the heart of every parent in the audience.  Her song, as she checks on Tom as he sleeps, echoes words and thoughts that all parents have shared during sleepless, worry-filled nights.  It's one of our favorite quotes from the show…
"This time tomorrow
we will have traveled another day
this time tomorrow
we'll be a little farther on our way
we will be wiser
we will be older too
this time tomorrow
I will still be loving you
this time tomorrow
no telling how the world will turn
this time tomorrow
what lessons we will have to learn
we will find laughter
we will find tear drops too
this time tomorrow
I will still be loving you
so sleep tight
baby don't you worry
it's alright
we're not in a hurry
moonlight
come in through the window
oh, my
where does the time go…"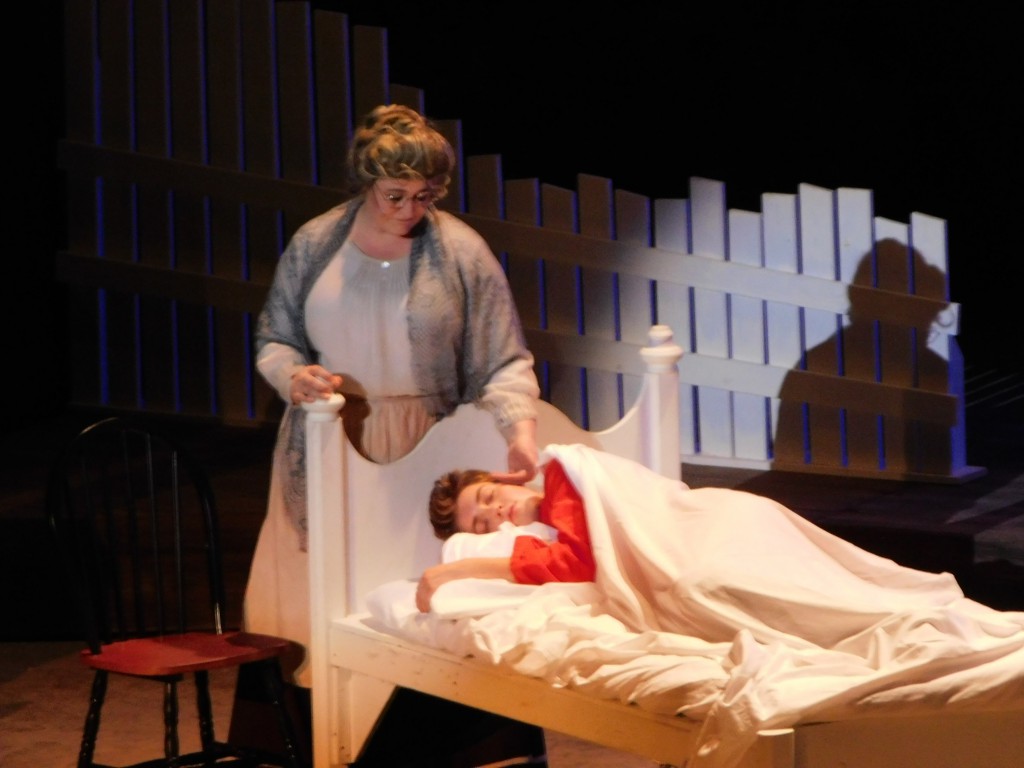 Parent Pointers: Tips for making your experience more enjoyable
The venue is perfect for even the youngest of children.  It's outside so there's lots of wiggle room and lots of tiered grass seating perfect for blankets and chairs.  Hills for rolling.  Bahama Bucks for munching.  Aisles for dancing (yes, it's OK to let them dance… in fact it's encouraged!).  And picnics are always allowed… even if the picnic consists of a quick drive through!
The doors open an hour before showtime, so try to get there as early as you can to stake your claim on a favorite spot.  It's open seating in the General Admission-designated area, which is the top section and sides… perfect when you have little ones anyway!  Be sure to bring sunscreen, mosquito repellant, and also a light jacket or blanket because regardless of the heat index during the day, our wonderful West Texas evenings can cool down nicely when the sun starts setting.
Although the show ends past some bedtimes (around 10:15pm), stay after the show and take the kids down to the stage where they can meet and greet the characters.  They may even know some of the cast members and can grab some hugs, program autographs and photos.
Preparing for the show:
The story does include some violent scenes that result in death, so parents may want to prepare children and discuss the story in advance.  The scenes are well-done and the actors in both cases do arise and make their way from the stage, proving that all is well.
Encourage older kids to read the novel or at least some excerpts of one of the Tom Sawyer book series.  Area public libraries have the books as well as the audio books and videos too.  For more fun, have the kids dress the part!
If your kids are veterans of Moonlight Musical productions, an element to this show that is different, is the orchestra.  Because it is a smaller, bluegrass inspired ensemble, it's a great opportunity to discuss the different types of orchestras used for musical productions and perhaps even lookup and learn a bit more about bluegrass.
Just the Facts!
When: Friday and Saturday June 9 & 10, 16 & 17, 23 & 24, 30 & July 1, 2017.  Gates open at 7pm and performance starts at 8pm.
Where: Moonlight Musicals Amphitheatre at 413 East Broadway Lubbock, TX 79403.
How: Tickets are available at online, or by calling 806-770-2000. Prices Range from $23-$31 for adults and $10-$18 for children.  Students for $15. *For General admission child age is 5-9 years and Premium admission child age is 0-9 years.
Length: Lasts approximately 2 hours and 30 minutes with a 20 minute intermission included..
Age: Recommended for ages 4 and up.  Younger kids will still enjoy the open venue and the dancing and singing.
Planning to go?  Let us know how you like the show!  Write your reviews below.
Credits:  Based on the novel by Mark Twain. Conceived and written by Ken Ludwig.  Music and lyrics by Don Schlitz.
Images from Lubbock Moonlight Musicals 2017 production of The Adventures of Tom Sawyer and LubbockForKids.com.