Last Chance – Final performances this weekend!
Bruiser is waiting…
If you are looking for a way to spend some time together over the pre-holiday weekend with especially your oh-so-bored-with-summer-already teens and pre-teens, then you can't miss the final performances of Lubbock Community Theatre's production of Legally Blonde Jr. The Musical at the LHUCA Firehouse Theatre.
Great for the entire family, and not just for the soon-to-be sorority gals… super fun for the men and boys in your life and perfect for recent 2018 grads!
The beauty of this production is not only its length, it's under 2 hours, but its infectious cast and crew… including 2 absolutely adorable dogs who are very talented stars in their own right!
The show follows the story made popular in the movie "Legally Blonde" staring Reese Witherspoon. However this production is sweeter, and more inspirational for our kids – whether they are soon to be graduates or have a few years to go. The underlying message of always being true to yourself, yes, even if it means wearing your signature color (pink!) to your first job, is timeless and is reinforced though a super-fun music score (and one you and your child will sing together for days!). In addition, the theme of tenacity and never giving up on something you believe in, is a very valuable take-away. And one of the most encouraging messages, as a parent, is the fact that Elle has to work hard to reach her goal of going to Harvard Law School… dreams take effort!
If your kids aren't fans of musicals, then this is the the show you must see together… it's so much fun that our family will be seeing it again this weekend! And the layout of the theatre lends to the feel that you are part of the story and the fun, with a very close proximity to the stage.
The talent of the young actors will blow you away. The actor who played Elle the first weekend, Macee Maddox, not only pulled off the spunky attitude of Elle while keeping her sweet and endearing, but also treated the crowd to a beautiful, angelic voice. And one of our family favorites was Paulette Bounafountie, played perfectly and charmingly by Taylor McKenzie Sines. And Karson Hood as Brooke Wyndam truly stole the show at times!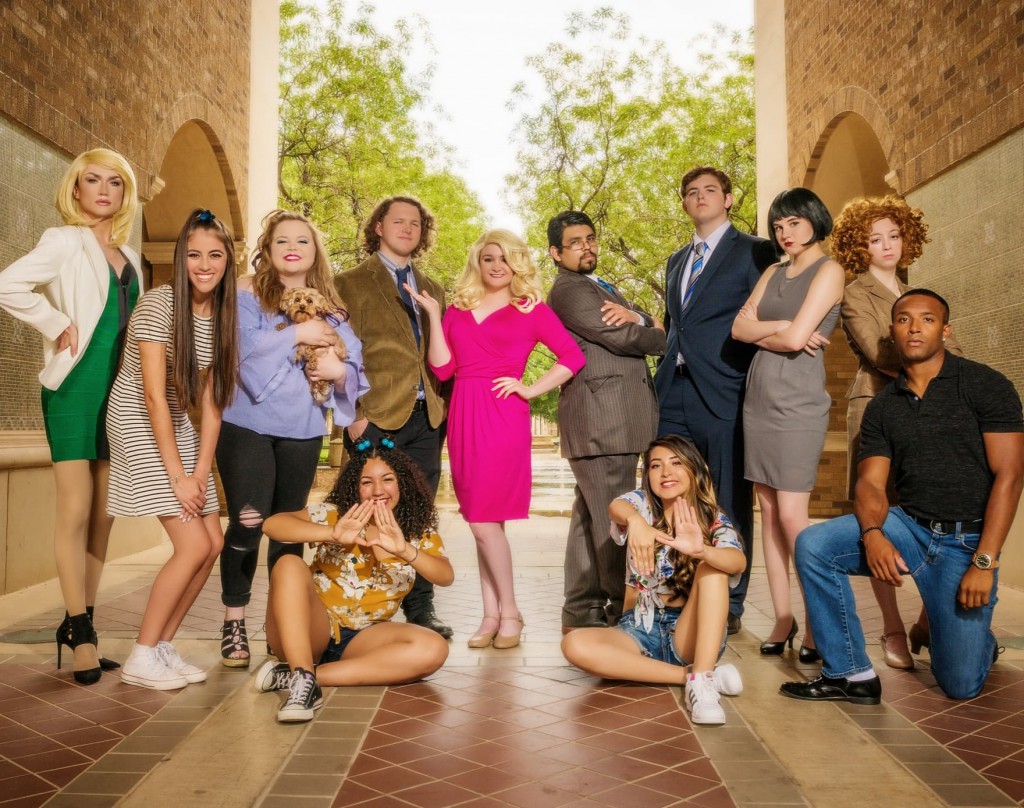 Start the 4th of July holiday weekend with a bang, and bend, and snap, and join the fun at Legally Blonde Jr.  OMG You Guys… you'll love it!
If you go:
It is a close-up theatre, so once the show starts, late arrivals are not allowed.
Waters and light treats are available with no concession so eat before or after you go.
When:
Thursday, June 21, 2018 7:30 PM.
Friday, June 22, 2018 7:30 PM.
Saturday, June 23, 2018 7:30 PM.
Sunday, June 24, 2018 2:30 PM.
Thursday, June 28, 2018 7:30 PM.
Friday, June 29, 2018 7:30 PM.
Saturday, June 30, 2018 7:30 PM.
Sunday, July 1, 2018 2:30 PM.
Where: Louise Hopkins Underwood Center for the Arts (LHUCA) Firehouse Theatre. 1511 Ave. K., Lubbock, TX 79401.
How: Tickets are available online, at the door or by calling 806-749-2416. $15 for students and seniors and $20 for adults.
Length: Lasts approximately 1 1/2 hours with a 10 minute intermission included.
Age: Recommended for ages 6+ but lively enough for all ages!
Going to the show?  Let us know!  Write your reviews below.
Credits:
Legally Blond Jr. The Musical
Music and Lyrics by Laurence O'Keefe and Nell Benjamin.  Book by Heather Hach.  Directed by Heather May.
Cast:
Elle Woods:  Macee Maddox 1st weekend, Eve Helak 2nd weekend.
Margot:  Natalee Sanchez
Serena:  Liberty DeLeon
Pilar:  Hannah Hays
Warner Huntington III:  Zachary Ell 1st weekend, Wyatt Brownell 2nd weekend
Emmet Forrest:  Dylan Avant
Vivienne Kensington:  Allana Cano
Paulette Bounafountie:  Taylor McKenzie Sines
Pro. Callahan/Grandmaster Chad:  Miguel Martinez
Brooke Wyndam:  Karson Hood
Kyle:  Deacon Chaney
Whitney:  Brenna Ryan
Kate:  Sophie Goforth
Saleswoman:  Sylvia Medina
Judge, Store Manager:  Abi Mills
Chutney:  Natalya Pappas
Enid Hoops:  Lindsay Little
Winthrop:  Harrison Black
Pfizerreeme:  Erin Ewings
Fratboy, Salon Worker:  Robert Spencer
Jet Blue Pilot, Guard:  Grand Pyke
Aaron Shultz:  Nicholas Ellerbrook
Sundeep Padammada:  TiAmos Jackson
Dewey:  Nelson Hudson
Fratboy, Guard:  Kagan Baker
Delta Nu, Bookish Client:  Anya Pappas
Harvard Student:  Gabby Pena
Photos provided by Heather May – Lubbock Community Theatre.