Tick. Tock. Tick. Tock… don't let this one get away!
Last show is Sunday April 23.
The Lubbock Moonlight Musicals organization through their Moonlight Broadway series once again treats the families of the South Plains to a top-notch, beautifully crafted performance that gives parents the chance to enrich their children and instill a love of the arts… and the ability to actually image themselves flying!  But invite your friends who don't have kids too… it's that much fun!
This performance of Peter Pan is a jewel and perfectly scheduled during the Easter holiday weekend (great for out of town guests) and during the weekend of the Lubbock Arts Festival (in fact, make it a day… most of the children's crafts at the Arts Festival are in the lobby area, which is free of charge, plus they are offering free admission into the Arts Festival with tickets to see Peter Pan).
The set is beautiful and pulls even the little ones into the story… truly looks like a nursery, the sky, a forest and pirate ship.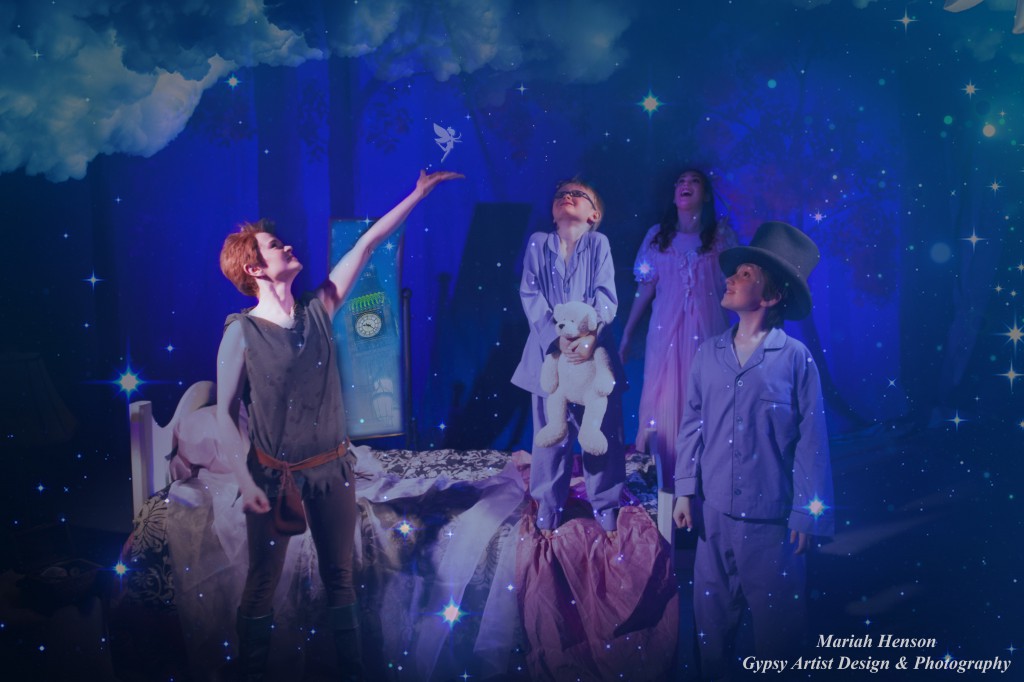 This production is infectious… we found ourselves singing " I Won't Grow Up," and  "I'll Call for Tiger Lily, and I'll Call for Peter Pan…" for days after the performance.   We loved each scene but the warrior dances lead by a mesmerizing Tiger Lily (performed by Alex Caldwell) were some of our faves.  Kids and parents will love seeing the young actors truly fly across the stage and across the skies to Neverland…  little Michael Darling (performed adorably by J. Aubrey Tucker) was even an old pro at flying, especially when grabbed in mid-air by the hands and feet by big sis Wendy (performed by Francesca Arostegui) and big bro John (performed by Elijah van Gilder).
The warm feel of the show is inviting… the professional talent (who were amazing!) combined with local cast members gave it a very approachable, reachable feel… one that the children in the audience relate to and can aspire to.  As we were leaving, we heard several kids say, "Wow, Mom, can I be in the play?  I want to fly like that!"  The fun was that contagious.
Peter Pan (performed by Bridget Riley) was stunning and so much fun to watch… a great, effortless flyer (you really thought Peter was flying!) and such a great voice!  The singing is what really struck our group.  The leads - Peter, Wendy, Hook, Tiger Lily - all had amazing, crystal voices that were perfect for each part.  Captain Hook (performed by David Edwards) was so well played… lovable, sinister, and hilarious with the perfect voice to not frighten the children in the audience, but to still give them a thrill.
It's evident to all, that Moonlight Musicals is dedicated to outreach and lighting the art-spark in our kids by including them in any way to join the fun… whether in the production itself (in fact, during the show, everyone has the chance to save Tink!), in their camps that they mention at the first of the show, and even in sharing with each child in attendance their own treasure map with crayons.  Each touch of the arts shares a new world with our children.
Teachable Moments
This production is a great example of the power of never giving up:  by thinking happy, positive thoughts, you can fly. That's the secret of staying young, and we all have that power… with and without Fairy dust!  Such a great learning opportunity for our kids, and reminder for ourselves.  It was a perfectly-timed message for our teen (and parents too!).
Preparing for the Show
Children may think they know Peter Pan but many only know the 1953 Disney version. Be sure that your little princesses realize that this is a stage play, not the Disney version: they can (and should!) wear their favorite Tink or Peter Pan costume, but the character of Tinkerbell in the show does not take human form. She is a lively, sparkling light. But never fear: Tink is so cleverly acted, that her spunky personality shines through!  For older kids, encourage them to take a look at the original novel and then share their thoughts.  The Alligator is also never seen, but always heard by his loud, scary "Tick Tock."   The imagination is always engaged!
Another point that parents can cover before the show, is that this presentation is from the novel, which was written at the turn of the century in 1904… a time when some words had different meanings. At the first of the show, Peter uses a funny word that in previous times meant a "funny donkey"… however some children may think it's an unkind word (yes, you guessed it… starts with an A and ends with an S).  Another nice learning opportunity.
Just the Facts!
When:
Friday, April 14, 2017 7:30pm.
Saturday, April 15, 2017 7:30pm.
Friday, April 21, 2017 7:30pm
Saturday, April 22, 2017 2:00pm and 7:30pm
Sunday, April 23, 2017 2:00pm
Where:
Lubbock Memorial Civic Center Theatre. 1501 Mac Davis Lane, Lubbock, TX 79401.
How:
Tickets are available at Select-a-Seat, online, or by calling 806-770-2000. Prices Range from Prices range from $25-$75.
Length:
Lasts approximately 2 hours with a 20 minute intermission included.
Age:
Recommended for all ages but ideal for 4+.  Younger kids may get antsy at times, but the music and theatrics will keep them engaged.
Gone to the show?  Let us know!  Write your reviews below.
Credits:  A Musical Based on the Play and Novel by Sir J.M. Barrie.
Lyrics by Carolyn Leigh.  Additional Lyrics by Betty Comden and Adolph Green.
Music by Morris (Moose) Charlap.  Additional Music by Jule Styne.
Originally directed, choreographed and adapted by Jerome Robbins.
Producer:  Gerald Dolter.
Director/Choreographer:  Jeff Smith.
Conductor:  John S. Hollings
Images from Lubbock Moonlight Broadway 2017 production of Peter Pan (R) The Stage Musical and Elizabeth Logan.