Early Performances Saturday and Sunday!
Catch the final, held-over performances on special days and times!

Celebrating Family Tradition.

The final summer production from Moonlight Musicals is a special early fall treat – a family-friendly musical during the very best weather of the year in West Texas.  "Seven Brides for Seven Brothers" is a fun, sing-along, show, with tons of kids in the cast making it super-fun for the kids in the audience to relate to.  It's a wonderful show to wrap up the season:  Focusing on family, and love, and music and dance. The beauty of this performance is its ability to span several generations:  Grandma and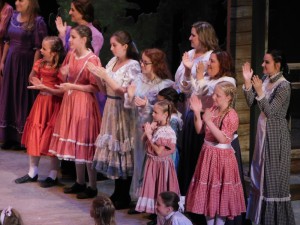 Grandpa will know every word of the catchy songs, but what is exciting to see is the involvement shared by little ones as well as teens and Tech students.  As we were heading to meet the cast after the show, we passed several Tech co-eds who were singing and laughing and commenting that they had never heard those songs before but they were going to have to do something quick or they'd be singing "Bless Your Beautiful Hind, Wherever You May Be…" for weeks!
This is the perfect chance to catch the show for those whose bedtime is earlier… the final shows start at 7pm rather than 8pm.  And offering the show on Sunday provides a unique Sunday night family event to wrap up the summer and the weekend.  The night we attended, a storm was threatening, but held off and even provided a pretty specular rainbow over the theatre… we knew it was going to be a great night!
Family Traditions
What you'll find if you attend a few of the Musicals, is that it is a family tradition at all levels.  You'll see parents with their kids volunteering with the shows, running the shows, attending the shows, and performing in the shows.  Many of the kids you see on stage have literally grown up before our eyes as they and their families have made Moonlight Musicals their family tradition by performing together, on the stage and behind the scenes as well.  The fact that the families of the South Plains have multiple opportunities to join in and experience the arts in a tangible way, is priceless.
And being able to see the show as our kids head back to school, for the first time or the last time, was a sweet treat of together-time.  And then Milly (played by Marissa Hernandez – many will remember her performance last year as Christine in "Phantom of the Opera") had to go and sing that song… the one that made the heart of every parent in the audience swell:  "Glad That You Were Born"…
"I'm glad that you were born.
Born to laugh, born to dream
Born to spread your light.
Through your eyes I see clearer
You bring God so much nearer.
Life has grown so much dearer,
I'm glad that you were born…"
But never fear… the tone of this show is light-hearted with lots of dancing, and singing from "Goin' Courtin'" to "Wonderful Wonderful Day" to "Sobbin' Women" to, of course, "Bless Your Beautiful Hide" … there is no possible way that you can leave the show not humming your favorite!
Parent Pointers: Tips for making your experience more enjoyable
Reminders:  The venue is perfect for even the youngest of children.  It's outside so there's lots of wiggle room and lots of tiered grass seating perfect for blankets and chairs.  Hills for rolling. 
Bahama Bucks for munching.  Aisles for dancing (yes, it's OK to let them dance… in fact it's encouraged!).  And picnics are always allowed… even if the picnic consists of a quick drive through!
The doors open an hour before showtime, so try to get there as early as you can to stake your claim on a favorite spot.  It's open seating in the General Admission-designated area, which is the top section and sides… perfect when you have little ones anyway!  Be sure to bring sunscreen, mosquito repellant, and also a light jacket or blanket because regardless of the heat index during the day, our wonderful West Texas evenings are cooling down nicely.
The final shows start earlier so it gives more time to stay after the show and take the kids down to the stage where they can meet and greet the characters.  They may even know some of the cast members and can grab some hugs, program autographs and photos.
After the show, just for fun, plan to have a movie night with the kids to see the movie version and discuss the differences… even the fact that when you see a live performance, there are usually new songs, people and sometimes even a different ending!
Just the Facts!
When: Held Over Shows.  Saturday 9/9 and Sunday 9/10.  Gates open at 6pm and performance starts at 7pm.
Where: Moonlight Musicals Amphitheatre at 413 East Broadway Lubbock, TX 79403.
How: Tickets are available at online, or by calling 806-770-2000. Prices Range from $23-$31 for adults and $10-$18 for children.  Students for $15. *For General admission child age is 5-9 years and Premium admission child age is 0-9 years.
Length: Lasts approximately 2 hours and 30 minutes with a 20 minute intermission included..
Age: Recommended for ages 4 and up.  Younger kids will still enjoy the open venue and the dancing and singing.
Planning to go?  Let us know how you like the show!  Write your reviews below.
Credits:  Book by Lawrence Kasha and David Landay.  Lyrics by Johnny Mercer.  Music by Gene de Paul.  New Songs by Al Kasha and Joel Hirschhorn.  Based on the MGM Film and "The Sobbin' Women" by Stephen Vincent Benet.
Images from Lubbock Moonlight Musicals 2017 production of Seven Brides For Seven Brothers and LubbockForKids.com.